Develop lines of sight
to make winning decisions.
Be Data driven.

Actionable Intelligence. Delivered.
Staggering growth and diversity of data sources make data integration (acquisition and provision) and data wrangling (preparation) a foundational necessity for businesses aiming to leverage data for analytics and achieving a single source of truth.  The former is done for fail-safe interoperability while the latter is done to create usable data.
Legacy BI systems leave businesses grappling with reporting challenges. Functional limitations of legacy BI along with their high TCO ought to be the trigger for modernization. However, we also see many instances where extending the usefulness and life of current systems becomes an immediate need as businesses seek CapEx avoidance/ postponement.
OTo develop the 3 lines of sight (insight, oversight, foresight), BI and Data Science become the go-to knowledge areas. Ability to build the lines of sight at speed and scale, and act on them at all levels of an Organization is the hallmark of a high-performance business.
Whether the drivers be Compliance related or the need for a Competitive edge, Businesses use a mix of open source and commercial cutting edge platforms to achieve their end goals. Our engineers and analysts are equally at home be in market leading software/ tools/ processes such as SQL/ETL, Python, R, Power BI or commercial platforms like Dataiku.
Our solutions for each of these areas (Integration, BI & Reporting, Data Science) are designed keeping in view the unique budgetary constraints of an organization along with its Business and Operational goals.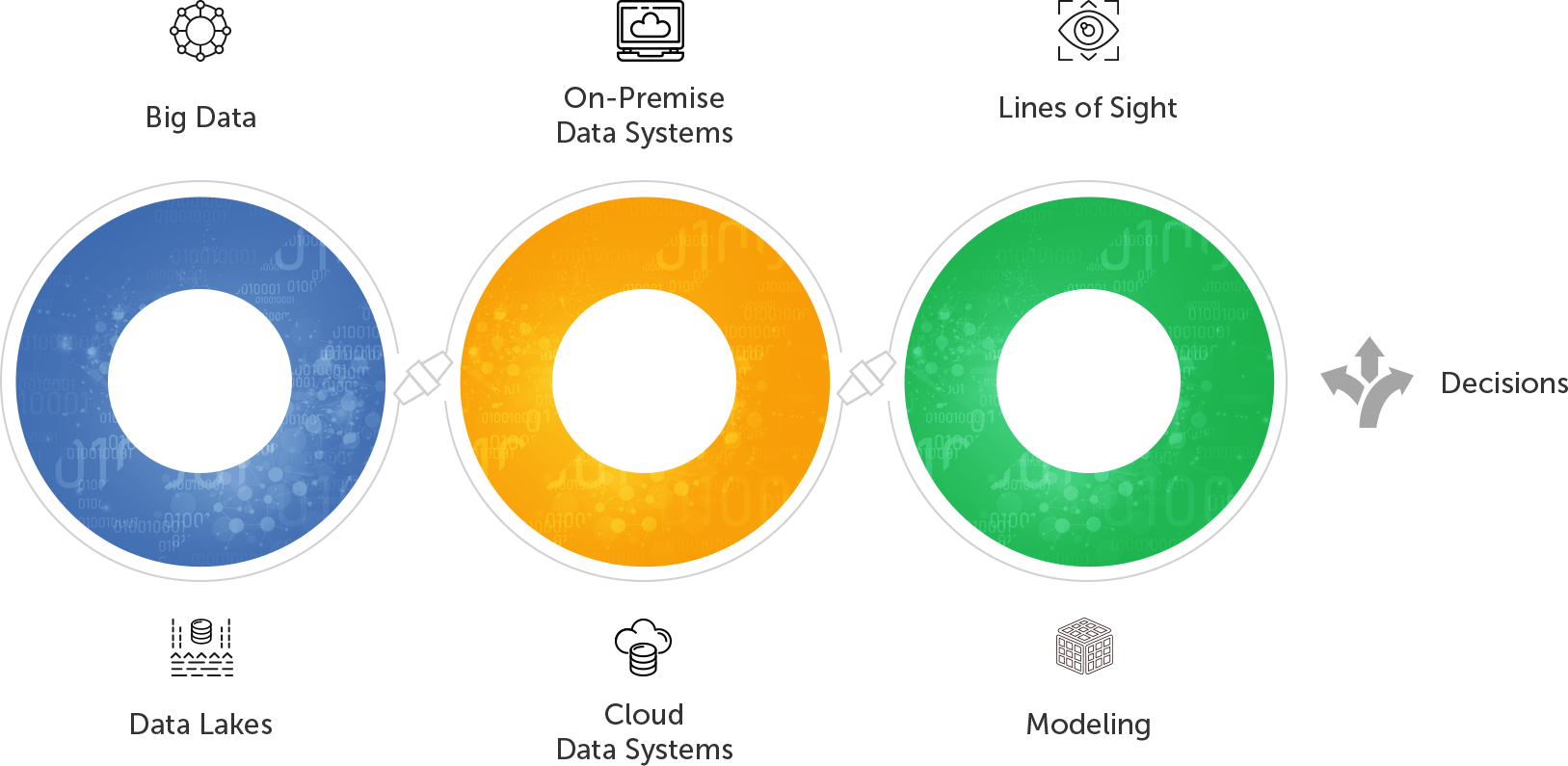 BI, Reports & Visualization
Architect and build enterprise-level BI solutions
Extending the life of legacy systems through business functionality addition/ bolt-on solutions
Efficient support and maintenance
Phase-wise, low-risk transition to a modern environment
User training for successful adoption
We build robust integrations for enterprise level analytics initiatives and business platform implementations (Veeva, Murex, Salesforce, Adaptive Insights, Workday to name a few) leveraging home-grown IP such as accelerators, frameworks, and automation.
With expertise in Big Data platforms, Text Mining, AI, ML, DL, Visualization, we build statistical, mathematical and algorithmic models for predictive and prescriptive analytics.
We have extensively deployed these models in fraud detection, customer churn prediction, sales forecast, weather forecast, event forecasting in personal health, risk prediction, sentiment analysis.
We outline in the below table the essential dimensions of solutions implementation which ensure success, speed and ROI of integration and analytics projects.
Key Dimensions

Integration

Data Science & Analytics

Process
Ingestion, transformation, monitor & alarm, dashboards and reports

CRISP-DM & Others
Discover, structure, clean, enrich, validate and publish

Purpose
Knowledge of end-purpose/ target system such as Sales forecasting, Enterprise Analytics, or a Business platform such as Veeva CRM

Business Goal
Knowledge of end-purpose/ target system such as Sales forecasting, Enterprise Analytics,

Custom Solution(Built using contextually chosen tools and technologies)
Potentially

Native integration platform
Commercial/ Open Source platform
Custom scripting

Commercial/ Open Source platform
Code/ Packages
Visualization
AI/ ML
Models

Skills
ETL, Programmer, Data Architect/ Modeler, Product Functional

Mix of Technical and Non-technical
Wrangling
Statistics, Mathematics, AI, ML

Speed & Control
Automation, Monitoring Dashboards and Alerts
We help you gain real insights and foresight from your data, so you can make winning decisions. Talk to our experts today.